Headteacher's Welcome
Praestare Aude
Can I welcome you to Scott Medical and Healthcare College a small 14-19 College in Plymouth. First and foremost we exist to give children an exceptional educational experience. Getting great GCSE, A Level outcomes is a given at the school, through expert specialist teaching, a world class curriculum, and disruption free classrooms. We mix traditional high expectations for all, with top class support to ensure every child reaches their potential.

By attending Scott College we believe you will have a greater chance of success in whichever field you wish to work in. Having said that we do specialise in the Healthcare Sector and we particularly encourage applications from students wishing to progress into this sector.
We have exceptional links within the sector to ensure all our students have essential work experience and prioritise this by timetabling it into students' school days. We also provide a broad range of speakers to work with our young people to widen their understanding of the different routes into the Healthcare sector. We have a large number of aspirant doctors and surgeons and ensure that we provide the very best support for these young people through the highly competitive application process, BMAT and UCAT preparation, UCAS support and trial interviews to give our students the very best chance of success.
Finally we value the wider education of every child and have a broad programme of character development opportunities including international travel and adventurous trips to give students experiences in line with the best schools in the country.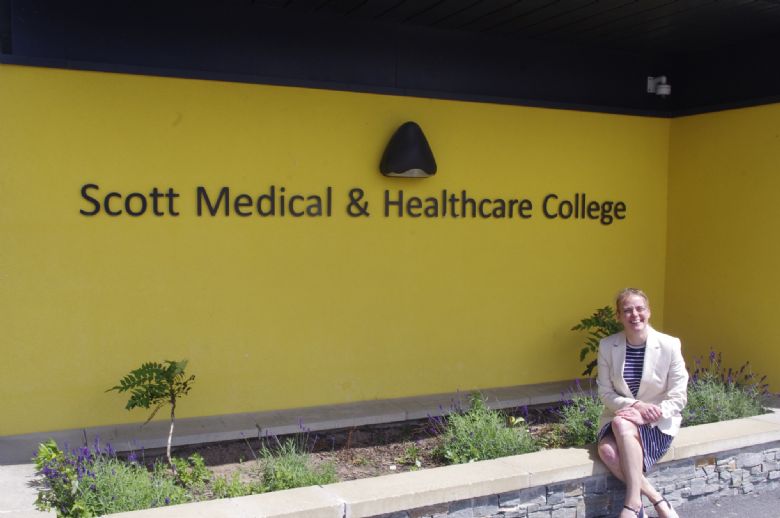 My name is Naomi Leech and I am the proud Headteacher of Scott Medical and Healthcare College. When deciding on a school to be Headteacher I wanted to choose a school in line with my expertise and values. I hold a Bachelor of Science from Aberdeen University and trained as a science teacher at Exeter University. My love of science steered me towards a school which is predicated on a strong maths and science curriculum.
I am also a mum with a daughter due to start her degree in medicine in September. This experience has given me first hand insight into what it takes to secure a place on a medicine course and wanted to lead a school where students get the necessary support with every aspect expected to gain a competitive offer. I also believe that the mental and physical health of all young people is crucial so wanted to lead a school which is constantly improving its understanding of this important area.
I like to travel extensively in my free time and the spirit of adventure is something I have also valued and benefitted from. At Scott College we are constantly seeking opportunities to explore and be adventurous. We have a wide extra-curricular offer which includes foreign travel (when permitted) Duke of Edinburgh and Ten Tors. We have societies and clubs in order to enrich our world class curriculum.
Finally, I want to reassure you that I am driven to provide the very best educational experience for your children. I can't guarantee that we will always agree on things but what I can do is assure you that all the decisions that I make at Scott College will be based on giving your child a better chance of success in whatever they chose to do.