Students visited by the army medical corps and Millie, the working dog!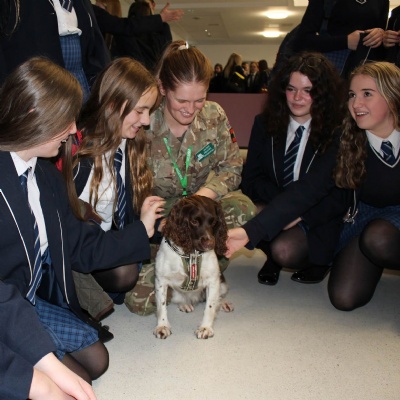 Today, we were joined by representatives from the Army Medical Corp with a special guest appearance from Millie, a retired army working dog!
The Army Medical Corp spent time with our BTEC Health and Social Care Students in year's 11, 12 and 13, where they listened to a presentation on medical careers within the Army and an explanation on how to apply.
The students got to spend time with Millie and her dog handler, and learnt all about her career as well as what sorts of things she had to do. They also got to hear from Millie's Handler and what it's like to be a Dog Handler within the Army.
They also got to practise bandages and first aid, look at the equipment that army medics use and learn amazing facts about life within the Army Medical Corp.
It was a fantastic event and students were completely engrossed in the whole session. Thank you so much for coming in and giving our students an insight into different career paths, they loved every second, especially meeting Millie!
For more information on careers in the Army Medical Service: https://apply.army.mod.uk/roles/army-medical-service
Learn more about army dog handler jobs: https://apply.army.mod.uk/roles/army-medical-service/dog-handler