Scott student, Lydia performs in the Battle of Trafalgar Parade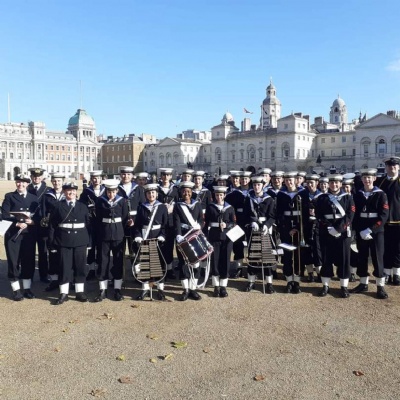 One of our Scott students, Lydia, our budding sea cadet, had the experience of a lifetime at the weekend. She was selected to take part in the Trafalgar Parade in London, for the Battle of Trafalgar celebrations.
This is Lydia's story;
"I had to audition to take part in the event, in which only the very best were selected. I had to send a video to the Officer of the Sea Cadet Unit, playing my bell lyer, knowing that only a selection of the best would be successful. I was really pleased when I got a place!"
"The trip was extremely rewarding but very intense. We arrived on Thursday, with the main parade happening on Sunday. We were up at 6 am every morning to practice and finished at 7 pm each night. We stayed at an adventure park on the outskirts of London and didn't even have a chance to look around!
"I was in the Bell Lyer section. It was challenging as we had to remember playing music to 2 hours' worth of marches and a final performance, plus practice marching in sync. It was tiring but when the day of the performance arrived and we were walking through the streets of London and down the mall, playing our instruments, I felt elated! I felt like the whole world was looking at me and I was so proud that I was a part of such an important celebration, honouring the soldiers that fought in the Battle of Trafalgar.
"I made loads of new friends from sea cadets but also from the army and royal marine cadet units too. There were over 500 of us and it was great to bond with other young people who have the same interests as me.
"The trip taught me resilience, dedication, and commitment skills. I learned, if you work hard you can achieve big things and I'll take these skills I developed into school and through to my exams. It was an amazing opportunity, I hope I get the opportunity to do it again."