National Poetry Day - Our New Poet Laurette!​​​​​​​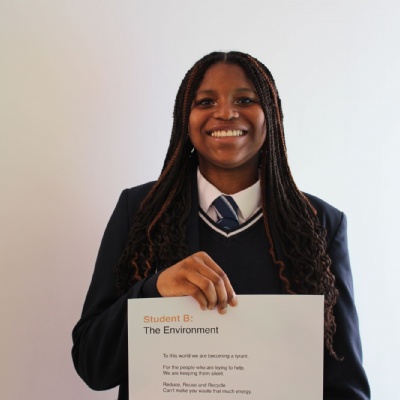 Congratulations to Prisca, our New Poet Laureate!
On National Poetry Day, Scott College held a whole school election in order to choose the new Poet Laureate for 2022/2023. Students from all years had the opportunity to write a poem to enter the competition. There were a number of excellent entries from which three finalists were selected by a panel of judges.
It was a close competition between the three shortlisted candidates - all who produced thoughtful, well-crafted poems on the theme of The Environment - but in the end, Prisca's poem won the vote.
Prisca, our new Poet Laurette said, "I was shocked, but thrilled to have won! I worked very hard on this, and I'm happy to say that it was worth it. I adore writing poetry because it allows me to subtly and creatively communicate my thoughts and feelings. In my free time, I enjoy writing poems since it allows my imagination to go wild.
"I'm excited to serve as this year's Poet Laurette and hope I can inspire other students to use poetry as a means of self-expression."
Ms Ekpoffiong, Literacy Coordinator, said: "I am extremely proud of all the entries and the time, effort and care that was taken to produce each one. The poems focused on different aspects of our environment and how we can make positive changes in order to save it. Our poets demonstrated a high level of maturity and understanding as they reflected on serious issues whilst still being able to send positive messages about appreciating the natural beauty of our world."
Mrs Henderson, Director of English, said, 'It's great to experience the buzz which surrounds the choosing of the new poet laureate and to listen to staff and students discuss the various merits of the poems. It's also encouraging to see that poetry continues to be a form that young people can engage with and enjoy.'
We can't wait to see what other creative and beautiful poems Prisca can create!

The Environment, By Prisca
To this world we are becoming a tyrant,
For the people who are trying to help,
We are keeping them silent.
Reduce, Reuse and Recycle
Can't make you waste that much energy.
Too many bad days
Because the surrounding
Heat gets to me.
Taking more trees,
Than you're using
Soon there will be no non-renewable energy.

In about time, the predictions for each country
Are bound to reach history
How we're going to help our planet is a mystery.
To this world we are becoming a tyrant,
For the people who are trying to help,
We are keeping them silent.
If someone has a solution,
Please let us try it.