Career Insight Day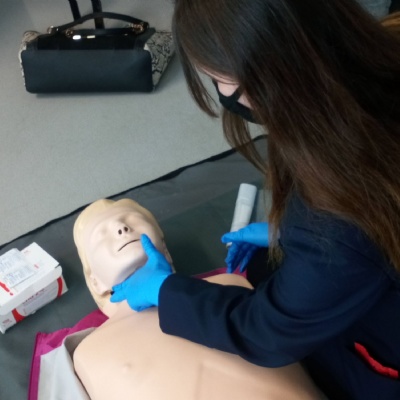 Year 9 Career Insight Day July 2021
On Wednesday 14th July 2021 we hosted a Career Insight Day for all our students who are progressing from Year 9 into Year 10 in September. We invited medical professionals from University of Plymouth and University Hospitals Plymouth NHS Trust to run interactive workshops where students had the opportunity to attend 6 different areas; Medicine, Dentistry, Adult Nursing, Physiotherapy, Midwifery and Biomedical Sciences.
Students heard from each profession and then were able to take part in some hands on activities such as delivering a baby; looking at forensic dentistry; emergency first aid/ resus, use of choking vests, taking heart rates, monitoring blood pressure, taking temperatures, looking at different animal blood under a microscope, understanding the anatomy of the body (using anatomical model) and the function of organs, and looking at equipment used in everyday life as a physio.
This was a fantastic opportunity for our students and feedback received so far indicated that they all enjoyed the day and had fun whilst learning some valuable information to assist them in their career journeys.
Many thanks to all the areas who gave up their time to come in.