Gold for British School Gymnastic National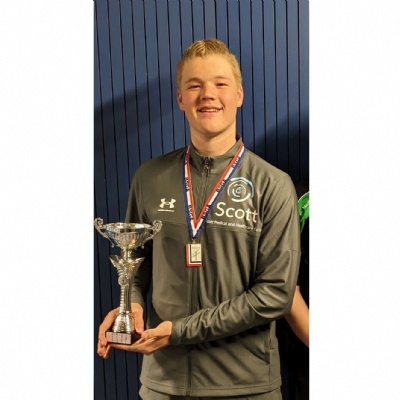 Danny travelled up to Stoke-on-Trent to compete in the British School Gymnastic Nationals for Tumbling. He was "Buzzing for the first big event since Covid" as the latest regionals have been recorded and sent in virtually.
Danny had to perform 3 tumbles, which is a series of acrobatic skills down a 25m long sprung track. Each tumble is given a score out of 10. He was competing against 7 other competitors in his event.
Danny put in a fantastic performance taking the top spot scoring 8.95 in his first tumble. Danny went on to score 8.55 and 8.70 for his remaining two tumbles.
Danny managed to keep hold of that first place position and went on to win the gold medal scoring 26.20/30. Danny was the only competitor to win Gold within the South West. Not only did Danny get a medal, but Scott College will get to add a shiny trophy to their collection.
Well done Danny, excellent effort!