Nursing Medical Masterclass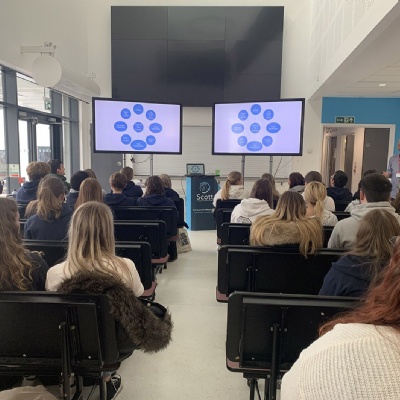 On Monday 4th April, Professor Kevin Hambridge from the University of Plymouth's Faculty of Health came into college to deliver a talk to our Year 12 students about the journey into the nursing profession.
He talked about the entry requirements needed to study one of the nursing pathways and how some are more competitive than others. He also explained other ways students can enhance their application, such as work experience, volunteering, Duke of Edinburgh, NCS summer school and attending a university open day to speak to staff and current students. This was great to hear as our Students have the opportunity to do all of these things through college.
Prof Hambridge explained how each of the nursing programmes are delivered, the number of placements that students go out on and the pastoral support that is available if required. He went on to talk more about the typical day of a student nurse, what they could be learning and the areas that they could be placed in.
Students were told about the salary and benefits of working as a nurse and that it's not just something you can do within the NHS, there are opportunities to travel the world and work abroad or work within the private sector too and earn a comfortable salary from a very worthwhile profession.
The Students came away feeling inspired and more knowledgeable in the sector. We want to say thank you to Professor Hambridge for coming in and giving our Students advice and guidance so they are able to make more informed decisions about their future.