Students Explore Exciting Pathways in Pharmacy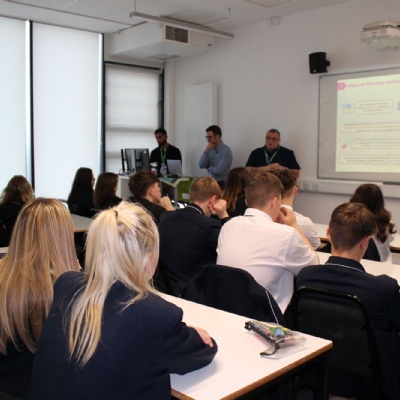 Students of Year 11 and Year 12 were treated to an eye-opening and inspirational session that shed light on the diverse and rewarding world of pharmacy.
The visit, featuring guest speakers from NHS Devon Pharmacy and Pathway CTM, was an enriching experience for our students as they delved into the multitude of career possibilities in this field.
Imtiaz Choudhury, a representative from NHS Devon Pharmacy and Pathway CTM, offered valuable insights into the various pathways available to aspiring pharmacists. He covered the options of pursuing a university degree or taking on apprenticeships, emphasising that there's more than one way to embark on a successful pharmacy career.
The stage was then taken by a local pharmacist from Beacon Medical Practice who captivated the students with a comprehensive overview of the diverse roles and locations within the NHS where pharmacists can make a significant impact. The students engaged in interactive discussions, brainstorming the qualities that define a good pharmacist while learning about the different roles and qualifications required.
The guest speakers elaborated on the responsibilities pharmacists shoulder, from drug dispensing and prescribing to administering vaccinations and providing crucial medication advice to the public. Students discovered that pharmacists in hospital settings play a vital role in monitoring wards and medication storage, ensuring patients receive clear instructions for safe medication use.
David Bearman added an exciting dimension to the session as he explored the apprenticeship pathway to a career in pharmacy. He runs the apprenticeship Pharmacy Technician course and enlightened students about the course structure and pay structure. The revelation of a starting salary of over £25,000 for Pharmacy Technicians left the students pleasantly surprised.
Abi, a second-year pharmacy technician student, was nothing short of inspirational. She shared her journey, explaining how her apprenticeship involves four days of hands-on work in a pharmacy and one day of online college, all while being paid. Abi's passion for her chosen career path left an indelible mark on our students.
Maddie expressed her newfound appreciation for the world of pharmacy, saying, "I never thought about this career until now, and it has given me lots to think about with my option choices. Abi was so down to earth and explained her course with such passion; it made me realise I have more options for my future."
Omar was equally impressed and exclaimed, "I thought the salary was impressive for a pharmacy technician, then was told the salary of the pharmacist and nearly fell off his chair."
This visit not only broadened the horizons of our students but also demonstrated the incredible diversity and opportunities within the pharmacy profession. We extend our heartfelt thanks to the guest speakers who made this experience both enlightening and inspiring for our students, providing them with fresh perspectives on their future career choices.