A Glimpse into the World of Funeral Services: Coop Funeralcare Visits Our School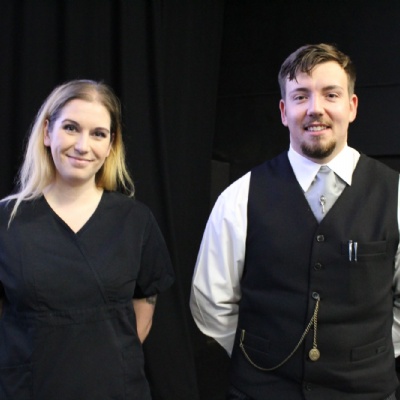 Today was a day of learning and reflection as Coop Funeralcare brought Matt, a Funeral Director, and Chloe, an Embalmer, to Scott.
Year 9s, 10s, and sixth form students had the unique opportunity to gain insights into their roles and the profound journey that unfolds for a deceased person after they pass away. Matt and Chloe meticulously covered the entire process, from the first contact with the deceased to the day of the funeral or cremation, offering a candid and insightful look into their vital professions.
Funeral Directors play a central role in the process, liaising closely with the next of kin to organise the final resting place for the deceased, be it a burial or cremation. They manage a myriad of aspects, from arranging the necessary paperwork to preparing the coffin and caring for the deceased person. Their delicate work extends to facilitating visits by loved ones, ensuring that the grieving process is as respectful and dignified as possible.
On the other side, Chloe, an Embalmer, is the unsung hero working discreetly behind the scenes. With a background in health, Chloe revealed that formal qualifications are not always required to enter this profession. She suggested the path of joining the British Institute of Embalmers and enrolling on a recognised intensive course, akin to the one she completed in-house with Coop Funeralcare. Embalming, as she elucidated, is the process of preserving the deceased person by injecting Formaldehyde into the circulatory system, thereby slowing down decomposition and preserving the dignity of the deceased.
The presentations by these two professionals sparked a flurry of questions from our curious students. Inquisitive minds delved into various aspects, such as how to apply for positions as Funeral Directors or Embalmers, the potential earnings in these fields, the flexibility in choosing burial locations or scattering ashes, the costs associated with funerals, and the collaboration between professionals and the coroner.
Mr Harris, who attended with the Year 9s and 10s, commended their insightful questions, highlighting the active participation and keen interest that our students displayed throughout the enlightening sessions.
This unique opportunity provided by Coop Funeralcare has allowed our students to gain a profound understanding of these often underappreciated professions. The importance of their work, in ensuring that the deceased are handled with the utmost care and respect, has been underscored, along with the myriad considerations involved in the funeral process. Such visits are invaluable in broadening horizons, fostering curiosity, and encouraging a deeper appreciation for the multifaceted world of careers available in our society.