Our new Poet Laureate is revealed!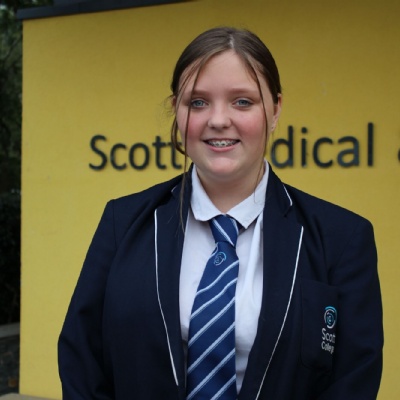 Scott Medical & Healthcare College, renowned for nurturing talent and creativity, had an unforgettable National Poetry Day as they elected their new Poet Laureate.
The student body, inspired by the power of words, participated enthusiastically, submitting numerous original and exceptional poems that left the selection panel in awe.
The impressive entries from students of all backgrounds and ages were a testament to the school's commitment to fostering creativity. It was heartening to witness a surge of participation, with students from every corner of the institution showcasing their poetic prowess.
The competition reached its pinnacle as the final four students presented their carefully crafted and insightful poems. It became abundantly clear that the theme of "refuge" struck a chord with each of them. Their poems not only demonstrated a deep exploration of this theme but also revealed their personal journeys in seeking and finding refuge in various aspects of life.
What truly set this event apart was the active involvement of the student body in the voting process. Students engaged in thoughtful and sensitive discussions about the merits of each poem, highlighting their maturity and appreciation for the art of poetry. Having had the opportunity to read the poems during their morning tutor period, students eagerly flocked to the voting booths as soon as the bell rang, resulting in another impressive turnout.
Rhianna said, "I am both happy and excited. I'm looking forward to doing something new, a different experience and challenge!
"I didn't expect to win; it's a massive confidence boost to know my peers have voted for my poem. I did lots of research on other poets that spoke about refuge. I found expressing myself and finding empathy for those going through it helped to add something extra into the poem.
"I have some personal experiences which touches on this year's subject and found it really therapeutic to communicate this in a creative form.
"I enjoyed writing the poem, I went into my own world which helped to fully embrace the emotion I felt. I was quite relaxing too and felt really good when I finished it. I'm so happy that other people have resonated with it too."
Reflecting on the legacy of the past, Prisca, who enjoyed an immensely prestigious position as the Poet Laureate for Scott Medical & Healthcare College last year, now graciously passes the metaphorical crown to Rhianna. The entire college community is confident that Rhianna will continue to raise the bar and leave her own indelible mark as the Poet Laureate in the 2023/2024 term.
Rhianna's ascension to the role of Poet Laureate signifies a new chapter in the institution's rich literary history. Her words and her passion for poetry have already left an indelible mark, and we eagerly anticipate the inspiration she will bring to Scott Medical & Healthcare College in the year ahead.
As we celebrate this occasion, it's clear that the power of poetry continues to thrive within the college, and Rhianna's poetic journey promises to be an unforgettable one. A heartfelt congratulation goes out to all the finalists for their remarkable achievements.
Rhianna's winning poem: