Sport and Well-being Day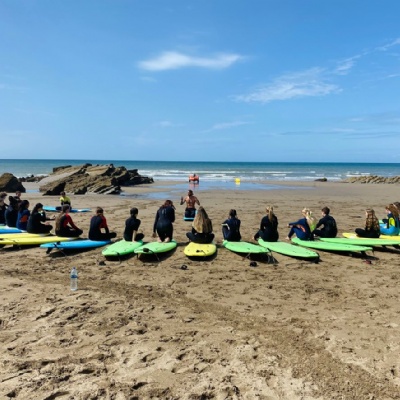 Scott College recently hosted an exhilarating Sport and Well-being Day, providing students with a range of thrilling activities to challenge themselves physically and mentally.
Amongst the exciting options available, a group of students had the opportunity to participate in a Dive and Climb lesson at the renowned Plymouth Life Centre.
The day kicked off with pupils learning diving techniques on the poolside before venturing onto the 1m springboard. Bravery soared as the students moved up to the 3m boards, where some had to muster up courage before taking the leap. After refining somersault techniques on the poolside, the pupils had some free time on the boards, where they impressed by conquering the 7.5m board!
Following a well-deserved lunch break, the students geared up with harnesses and climbing shoes for an exhilarating climbing experience. As a united team, they supported each other while ascending the walls. In the bouldering room, the pupils took on the ultimate challenge of free climbing without any ropes.
Meanwhile, in a cooking session led by Mrs. Chalmers, 20 students embraced their culinary talents. With Ash's bread rolls garnering compliments for their professional appearance and Theo mastering the tin opener, the kitchen was abuzz with enthusiasm. The students learnt to prepare healthy soups, choosing between tomato or leek and potato, accompanied by freshly baked homemade bread. Their cooking endeavours continued with sweet delights, from chocolate pudding to cookies and brownies.
Other students opted for an invigorating surfing lesson at Tregonhawke Beach in Whitsand, basking in the sea and sun on the beach. Others chose to participate in sports games on campus, showcasing their athletic abilities and team spirit.
By the end of the Sport and Well-being Day, exhilaration, laughter, and accomplishment filled the air. The students had seized every opportunity to challenge themselves, pushing their limits and discovering new passions. The day was a testament to the supportive environment fostered at Scott College, where students are encouraged to explore and grow, nurturing their physical, mental, and emotional well-being.