Celebrating the Stars: Scott College's Gold Award Achievers Shine Bright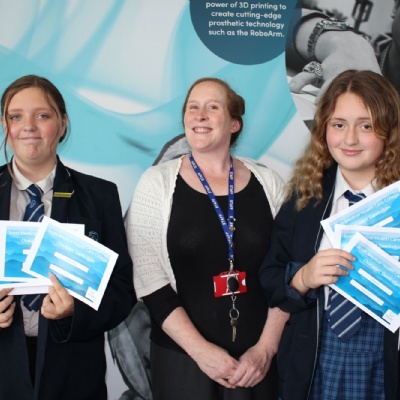 In a heartwarming ceremony at Scott College today, we honoured some of our remarkable students and their exceptional achievements throughout the past year. Among the accolades, the Gold Awards shone with stories of determination, compassion, and selflessness.
Lilly, a shining example of selflessness, embarked on a remarkable journey to raise funds for breast cancer awareness. 'Her Swim 10 Miles' for Breast Cancer campaign was a resounding success, with Lilly swimming an astounding 3,571 meters over two and a half weeks. Through her relentless efforts, she raised an incredible £980, with £500 allocated for vital lab work related to breast density research. Another £100 will provide 20 women with mammograms, an essential step in detecting breast cancer risks. Lilly's dedication to this cause stemmed from her personal loss, as she saw her aunt bravely battle cancer. Her mission is to contribute to the fight against breast cancer and prevent others from experiencing the same heartache.
Caitlin, another Gold Award recipient, demonstrated unwavering commitment to her community. For over a year and a half, Caitlin has dedicated her Mondays to a childcare community centre, extending her support to both children and families. Her enthusiasm and love for helping others have made a lasting impact on the lives of those she assists. The centre is so appreciative of Caitlin's incredible efforts that they have requested her to continue working with them for the next six months, marking two years of dedicated service to her community.
Rhianna's Gold Award journey was equally inspiring as she teamed up with her uncle to raise £300 for the Little Princess Trust charity. Their fundraising endeavours included a selfless act of cutting her own hair to provide wigs for children experiencing hair loss due to cancer treatments. Rhianna's personal loss of a family member to cancer ignited her passion for helping others, and together with her uncle, they harnessed the power of social media and organised a disco night that successfully garnered donations for their cause. The experience has fueled Rhianna's desire to be more involved in charity walks to continue making a difference in the lives of those in need.
As we applaud our Gold Award recipients, we eagerly look forward to the new academic year and witnessing the incredible achievements of all our students. The Scott College community is immensely proud of the compassion, determination, and generosity displayed by these young individuals. Their commitment to making the world a better place through their actions serves as a powerful reminder that even the smallest acts of kindness can create a ripple effect of positive change.
Congratulations to all our exceptional students – you are the true stars of Scott College!