Year 12 Marjon Trip: A Glimpse into University Life and Inspiring Futures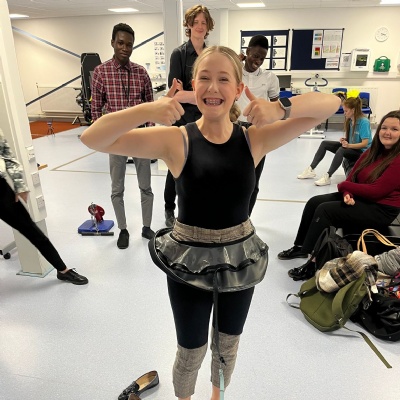 Our Year 12 students embarked on an exciting trip to Marjon today, where they were immersed in the vibrant atmosphere of university life and introduced to a range of captivating subjects.
The day was filled with interactive sessions, insightful discussions, and memorable experiences, leaving the students inspired and enthusiastic about their future educational paths.
Jasmine, one of our student ambassadors, summed up the trip, exclaiming, "It was great, and we had an amazing tour guide who was really funny. The campus has a homely feel, especially the nap room! It has made me think that university is definitely for me. The day was fun, interactive, and informative." Jasmine's enthusiasm perfectly encapsulates the sentiment shared by many of our students, highlighting the positive impact of the Marjon trip.
The visit provided our students with a comprehensive overview of university life, showcasing the diverse subjects and opportunities available at Marjon. They engaged in various sessions that delved into different aspects of student life and finance, exploring the impact of criminology on society, and experiencing an interactive medical ward, where they had the incredible opportunity to interact with 'Margaret,' the university's simulation robot patient. In this immersive experience, students learnt about infant and child resuscitations, gaining practical knowledge and insights into the medical field.
A tour around the campus offered our students a glimpse into the thriving Marjon community, enabling them to envision themselves as part of the vibrant university environment. The compass, a hub of student activity and support, showcased the diverse range of facilities and resources available to students. The interactive session in the sports lab further ignited their passion for sports and exercise, emphasising the importance of practical learning and hands-on experiences.
The Marjon trip left an indelible impression on our students, inspiring them to explore their academic and career aspirations. It provided a firsthand glimpse into the possibilities that await them in higher education, igniting a sense of excitement and determination to pursue their dreams. The trip not only broadened their horizons but also equipped them with valuable insights and knowledge, empowering them to make informed decisions about their future paths.
We extend our gratitude to the staff and student ambassadors at Marjon for their warm hospitality and for organising a memorable trip that has undoubtedly had a profound impact on our students.