Year 10 Students Excel on Work Placements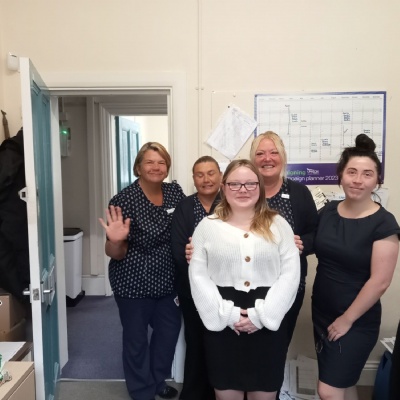 Year 10 students at SMHC have recently had the incredible opportunity to engage in week-long work placements, immersing themselves in real-world environments and gaining vital work skills and life lessons.
This invaluable experience has provided them with a sense of direction and a glimpse into potential career paths. We extend our deepest gratitude to the businesses and trusts that generously offered these amazing opportunities to our young people.
The range of placements students were able to explore was truly diverse, catering to various interests and aspirations. Some had the privilege of working within the renowned University Hospitals Plymouth NHS Trust, gaining insights into the healthcare industry and witnessing the dedicated efforts of medical professionals. Others found themselves in opticians, primary schools, nurseries, care homes, specialist departments at Plymouth University, and even veterinary clinics and pet shops. This breadth of experiences allowed students to discover their passions and consider future career paths that align with their interests and strengths.
One exceptional example is Leni-Rae, who was fortunate to be placed at Stuart Road Primary School. Under the guidance and mentorship of TA Mrs. Kane, Leni-Rae had the opportunity to step into the role of a Year 1 TA, supporting and guiding a class of 21 pupils. She actively participated in various activities, including the Read Write Inc program, classroom management, and arts and craft sessions.
Mrs Chalmers, who visited Leni-Rae during her work experience, commended her dedication and the support she provided to both students and teachers. Mrs Chalmers said, "Leni-Rae fully embraced the experience, even encountering the joys and challenges of break and lunch duty, where she remarked that the children were "loud!"
Another standout student, Chloe, embarked on a work placement at Livewell Southwest Hotel Services. Chloe's commitment and enthusiasm throughout her placement were exceptional, leaving a lasting impression on her tutor. Chloe had the opportunity to work closely with multidisciplinary teams, gaining invaluable insights into providing outstanding service to service users. She witnessed firsthand how hygiene, food and nutrition, safeguarding, and accident prevention play crucial roles in maintaining a safe and efficient working environment in medical settings. The staffs' expertise and guidance have been instrumental in providing Chloe with a well-rounded understanding of the industry.
The week of work placements has undoubtedly left a profound impact on our Year 10 students. They have not only gained practical skills but also developed a deeper understanding of different career paths and the expectations of the workplace. This experience has ignited their passion and provided them with a sense of direction, setting them on a path towards future success.
We extend our sincerest gratitude to all the businesses and trusts that opened their doors to our students, providing them with these invaluable opportunities. Your generosity and support have made a significant difference in the lives of our young people, shaping their aspirations and giving them a glimpse into a world of possibilities.
As our Year 10 students conclude their work placements, they carry with them newfound knowledge, skills, and a sense of purpose. Their experiences have provided them with a foundation for future success, setting them on a path towards fulfilling careers. We are immensely proud of their dedication and commitment, and we eagerly anticipate the great achievements they will undoubtedly accomplish in the future.
Chloe, at Livewell Southwest Hotel Services, pictured in opening image. Leni-Rae pictured below at Stuart Road Primary School.