Unforgettable French Adventure: Students Embark on a Spectacular Trip to Paris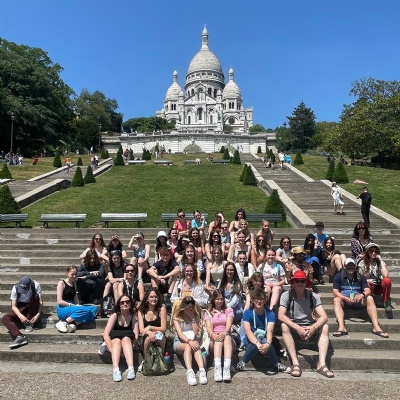 In a long-awaited trip, our Year 9 and Year 10 students from across campus had the incredible opportunity to journey to France and immerse themselves in the vibrant beauty of Paris.
For five unforgettable days, they resided in a former Chateau, relishing in a trip that marked our first Languages' excursion since 2019.
The weather, as if in perfect harmony with our joyous spirits, graced us with sunny skies throughout the entire trip. Students were fortunate to see some of the most iconic landmarks Paris has to offer. Ascending the Eiffel Tower, our intrepid explorers tackled an impressive 1,700 steps, conquering the heights to reach the tower's second floor. From there, a breathtaking panorama of the city unfolded before their eyes, leaving an imprint of the City of Lights in their hearts.
The journey continued, with each day unveiling new wonders. We marvelled at the Sacré Coeur basilica, an architectural masterpiece that exuded tranquillity and spiritual grandeur. The Arc de Triomphe memorial stood as a solemn tribute, reminding us of the bravery and sacrifices of those who came before us. A discovery trail through a charming village market allowed us to immerse ourselves in the local culture, while a leisurely stroll along the famed Champs-Elysées avenue epitomised Parisian elegance and sophistication.
In our quest for artistic inspiration, we explored the Montmartre area, renowned for its idyllic cafés and talented street artists. The picturesque streets of Montmartre led us to hidden gems and offered glimpses into the city's vibrant artistic legacy. A serene boat trip along the meandering river Seine provided us with the opportunity to admire the magnificent Louvre Museum, home to the world-famous Mona Lisa painting. The awe-inspiring Notre Dame cathedral stood as a testament to the city's rich history and architectural grandeur.
As the adventure drew to a close, they group decided to add an extra dash of excitement. A day spent at Parc Astérix theme park allowed the thrill-seekers among us to experience exhilarating roller coasters and create lasting memories filled with laughter and excitement.
However, the journey was not solely defined by external exploration. The Chateau, the groups temporary residence, offered an array of unforgettable activities. With its inviting pool and sprawling grounds, it provided the perfect setting for students to engage in friendly competition.
Mrs Trememllat, French Teacher and Trip Lead said, "Reflecting upon this extraordinary trip, we can confidently declare that it was an experience beyond words. C'était absolument merveilleux! The joy, laughter, and cultural immersion that accompanied our students throughout their adventure will undoubtedly leave an everlasting impression. Not only did they have the privilege of visiting iconic landmarks and partaking in thrilling activities, but they also fostered a deeper appreciation for French language and culture."
We extend our gratitude to all those who made this journey possible, including the dedicated staff, who meticulously planned every detail. Their commitment to providing our students with transformative experiences is truly commendable.
May this adventure serve as a catalyst for future journeys, broadening horizons, and inspiring a lifelong love for languages, culture, and the magic of travel.