Practical Skills Day 2023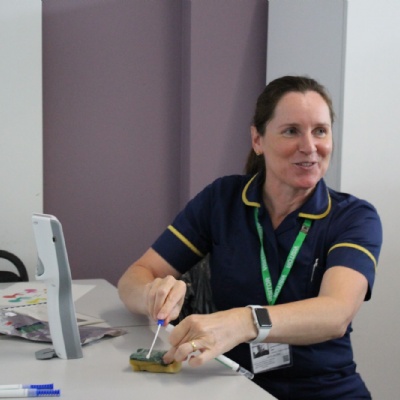 Scott Medical College held their annual practical skills day with great success, welcoming partners from the Plymouth NHS hospitals who kindly gave up their time to work with the students.
The day was enjoyed by all, with students learning a variety of fascinating skills and gaining valuable insight into potential future career paths.
The day was split into five activities, with each session lasting for one lesson. The first activity was based on infection prevention and control, where students learnt about sterilisation and the spreading of germs. This was followed by swabbing areas of the school to test for microorganisms. The students belongings did exceptionally well, scoring high enough to meet hospital standards!
We also hosted a midwifery workshop, where students learnt about how patients are monitored during pregnancy. The sensory workshop allowed students to experience an impairment and carry out normal tasks to gain a better understanding of the everyday difficulties that come with such impairments. In the optometry session, students explored career paths in the industry. Finally, the nursing session involved looking at body parts and basic CPR.
The day enhanced the students' knowledge and gave them an insight into potential future career paths, which was complemented by the varied structure of the day and the opportunity to experience a day outside of their regular schedule. The industry links who took part in the day played a vital role in making the day such a success.
The practical skills day provided students with valuable insight into different career paths and gave them a chance to learn from professionals in the industry. The interactive activities helped students to understand the practical applications of skills they had already learned in the classroom. The overwhelming success of the day is testament to the dedication and hard work of the college staff, its students and the industry partners who kindly gave up their time.