Pupils Conquer Challenges in their Silver DofE Qualifier Expedition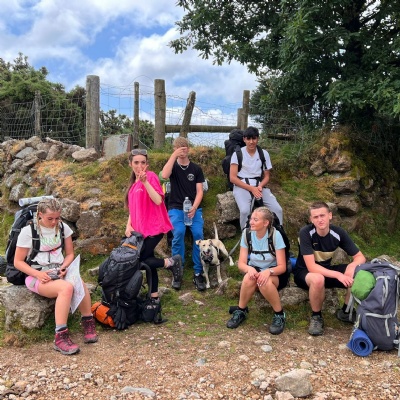 With bags packed, maps in hand, and spirits soaring high, Year 10 pupils from across the campus embarked on their much-anticipated Silver Qualifier Expedition.
This adventure, which they had been diligently preparing for over the past year, was finally becoming a reality.
The journey began as the students set off from Ivybridge, ready to face the challenges that lay ahead. From the very start, the group showcased pure determination and resilience, overcoming obstacles with unwavering perseverance. Tricky navigation tests, sweltering weather conditions, and even encounters with ticks did not deter their spirit. Instead, they rose to the occasion, demonstrating their ability to adapt and push beyond their limits.
During the final stretch of their expedition, the students faced the daunting task of climbing to the top of Sharp Tor. This demanding ascent was met with delight, and as one pupil eloquently put it, "They felt on top of the world!" The sense of accomplishment and triumph was palpable as they stood at the pinnacle, gazing out at the vast expanse below.
The journey was not without its challenges, but it was these very challenges that allowed the students to grow and thrive. Navigating through unfamiliar terrain, enduring the scorching sun, and battling against nature's tiny adversaries all contributed to their personal and collective growth. Along the way, they developed crucial skills such as teamwork, problem-solving, and resilience, which will undoubtedly serve them well in future endeavors.
We are immensely proud of all the students who participated in this Silver Qualifier Expedition. Their determination, positive attitude, and commitment to overcoming obstacles are a testament to their character and fortitude. Each student's personal journey, marked by self-discovery and growth, is a testament to their strength and resilience.
As the expedition came to a close, the pupils returned with a renewed sense of accomplishment and pride. They have achieved something truly remarkable. We hope that they have now recovered from their expedition and that the memories they have created will stay with them for a lifetime.
Congratulations to all the Year 10 pupils who undertook this challenging expedition, we couldn't be prouder of your achievements.