Bridging Generations: A day of connection and learning for BTEC students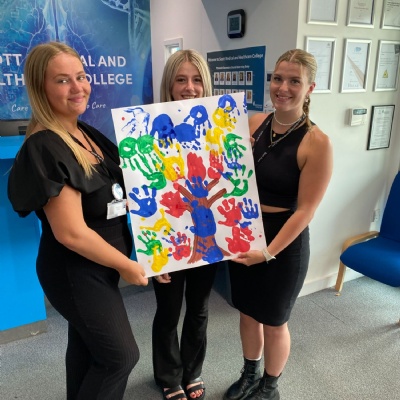 An unforgettable intergenerational day at Millfields Inspired in Plymouth brought together ten talented 6th Form BTEC students, creating meaningful connections between our students, reception children, and elderly community residents.
The day was filled with engaging activities, heartfelt moments, and a sense of community spirit. This unique experience not only allowed our students to put their skills into practice but also fostered empathy, understanding, and a newfound appreciation for intergenerational relationships.
The pre-planned activities centered around badge making and creating a beautiful tree of life picture using handprints. Our students took the lead in setting up the activities and provided support to all the participants, ensuring a smooth and enjoyable experience for everyone involved.
Throughout the day, our students displayed remarkable engagement and enthusiasm. Keely Burch-Havers from Millfields Inspired commended our students, acknowledging their fantastic involvement and expressed a desire to collaborate on more events in the future. She said, "The genuine connection between the students, the reception children, and the elderly residents was heartwarming and had a lasting impact on everyone involved."
Amidst the activities, some truly special moments stood out. One touching instance was when a student facilitated an interaction between an elderly resident and a reception child, encouraging them to create handprints side by side on a sheet of paper. The resident was overjoyed, cherishing the memento and stating her intention to display it proudly on her fridge. Additionally, as the day concluded, two reception children expressed their enjoyment and excitement, eagerly hoping to see our students again and even inviting them to visit their school.
Our students shared their thoughts and experiences from the intergenerational day, expressing the profound impact it had on them personally and professionally. Tille, aspiring to become a primary school teacher, said, "I really enjoyed the day and spending it with new faces. It was a great opportunity that I am proud to have partook in. The children enjoyed the day very much and were communicating with the elderly residence as planned, making it an overall successful day. It also gave me the opportunity to work with young children as an aspiring primary school teacher."
Gracie recounted the joy of interacting with the children, creating crafts, and witnessing their boundless enthusiasm. Sophie treasured the warm and welcoming atmosphere. Liam said, "It was a great experience to be working with the younger and older generation together as it shows that the age barrier can be broken down for the individuals to appreciate each other on a greater level."
The intergenerational day at Millfields Inspired was more than just a one-time event; it was a transformative experience for our students. The activities allowed them to apply their knowledge and skills while fostering a sense of empathy, understanding, and compassion. The day served as a reminder of the power of intergenerational relationships and the positive impact they can have on individuals and communities alike.
The day served as a testament to the immense value of bringing different age groups together and highlighted the transformative power of such interactions. Congratulations to our students for their outstanding engagement and heartfelt contributions. We hope that the intergenerational connections continue to flourish, leaving a lasting impact on all involved.