World Oceans Day 2023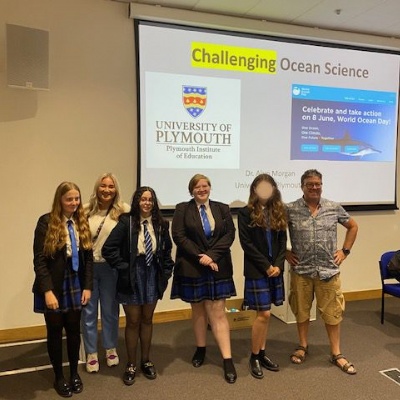 Students from across campus had an extraordinary day filled with exploration and knowledge as they embarked on a visit to the University of Plymouth for World Oceans Day 23.
This special event provided a unique opportunity for our students to delve deeper into the captivating realm of the oceans. Covering a wide range of captivating topics, including maritime history, the impact of storms on coastlines, and laws related to safeguarding sharks, the event left a lasting impression on our young minds.
For many of our students, this visit marked their first encounter with the University of Plymouth. The occasion presented a remarkable chance to explore the campus and attend enlightening talks led by prominent marine scientists. Some students even expressed their aspirations to one day become university students themselves, highlighting the inspiration and motivation kindled by this experience.
Throughout the day, our students immersed themselves in an oceanic journey, and engaging discussions were held, allowing students to apply their existing knowledge on climate change and pose insightful questions during the World Oceans Day event.
One student, Jack, described the day as "really interesting," expressing his enthusiasm for learning about the laws that govern ownership of different parts of the ocean by various countries. Elliott discovered a surprising fact about mangoes, realising that they only thrive in tropical conditions. Justin expressed his delight in acquiring a wealth of new knowledge about the ocean and highlighted his fascination with the research conducted on different boats. Luis and Erin shared their appreciation for the experience, emphasising the importance of the ocean and the valuable lessons they learned. Thierry's curiosity was piqued by the plight of sharks and the implications they face when their fins are removed. Shayne and Lauren praised the engaging and enthusiastic lectures they attended. Ciarre expressed her love for the interactive nature of learning about marine science and credited Dr. Morgan for being an intriguing and captivating lecturer. River, on the other hand, found great interest in maritime history, particularly the war borders and the League of Nations.
The students' testimonials reflect the invaluable impact of this educational excursion. It not only broadened their understanding of the ocean's significance but also sparked curiosity, instilling a sense of responsibility for its preservation. The immersive experience provided by the University of Plymouth's World Oceans Day event has undoubtedly ignited a passion for marine science within our students, opening doors to a world of possibilities.
We extend our heartfelt appreciation to the University of Plymouth for hosting this enriching event and to the marine scientists who shared their expertise and enthusiasm. Such experiences contribute significantly to the holistic development of our students, fostering a deep appreciation for the natural world and nurturing future scientists and advocates for our oceans.
As we reflect on this memorable day, we are proud of our students' engagement and eagerness to learn. We look forward to witnessing their continued growth and their potential future contributions in the field of marine science. Let us all remain committed to safeguarding our oceans, for they are a precious resource that deserves our utmost care and protection.