Bronze DofE Practice Expedition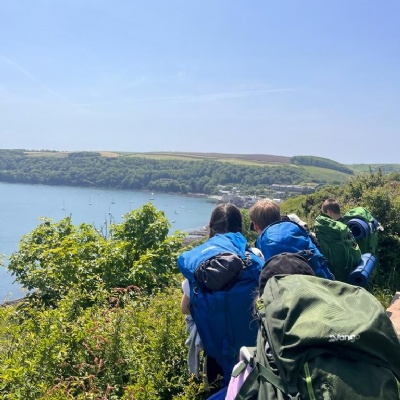 55 students from cross campus combined to complete their practice expedition around Mount Edgcumbe and Whitsand bay.
The practice walks, and training workshops have given them the skills, now they pushed their limits with two days of hiking and camping carrying everything they need to be totally self-sufficient. Although this is a practice run they still had to work together to overcome the challenges of navigating from school to Whitsand Bay in Cornwall.
The weather was glorious which made beautiful but challenging conditions for the students, however they coped well and smiled throughout. One or two learnt some hard navigational lessons, but the volunteer staff offered support and quickly got them back on track. At camp the students enjoyed a well-earned rest with meals of pasta, clearly a firm favourite!
On the final day, the students all got their heads down and walked through the tiredness to the Cremyll ferry, mostly powered by Haribo and the thought of a good night's rest.
All their hard work paid off, and we can't wait to see them apply everything they have learnt in the assessed expedition in July!
Ben said, "I just wanted to say thanks for all the help. I'm really proud of myself for doing this, and I really want to continue with this amazing experience. If I did go home and quit I would have regretted it because I had so much fun with all of you and my friends.
"Thank you to all the staff that came and supported me through the challenging times. Thanks for making me see how much fun it was!"
Well done to all those involved and our volunteer staff.