Biomedical Science Talk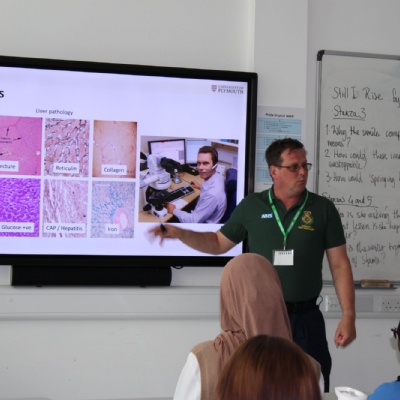 Year 12 students from across Scott College and Stoke Damerel were lucky enough to have a Medical Masterclass all about Biomedical Sciences, delivered by the fantastic Dr Paul Laurance-Young from University of Plymouth.
Paul was very funny whilst being informative, describing how the role of a Biomedical Scientist involves "cutting pieces of dead people into smaller pieces", and also working to help diagnose patients with a variety of conditions.
He explained his journey to Biomedical Science and how his perseverance paid off. His work can involve any part of the human body from external skin samples to whole legs to biopsy parts of the inside of the body as well as samples of fluids such as blood.
He emphasised that Biomedical Scientists are pivotal in ensuring that Doctors can give a patient a diagnosis from their results and findings, and ultimately be able to give the correct treatment. He explained that in his profession, even though you may not work with live patients face to face, you are a vital part of the medical and healthcare system.
To become a Biomedical Scientist you would be required to study at degree level for 3 or 4 years ensuring you take a course recognised by the Institute for Biomedical Science. It is also looked on fondly to do a placement year to gain experience in the field. Once completed students can work within the field and undergo further specialist training in areas of your choice.
A big thank you to Dr Paul Laurance-Young for coming in and giving yet another incredible talk. The students were both fascinated and mesmerised by the visit and have definitely taken away lots of information to help them with making their career choices.
Daisy said, "Dr Laurance-Young was very engaging, and the topic was very interesting. His presentation style kept us interested all the way through. The material was related to real life and was really fascinating."
Gracie added, "Overall it was a fantastic presentation and experience."