RacheL impresses with life-size crochet intestines for EPQ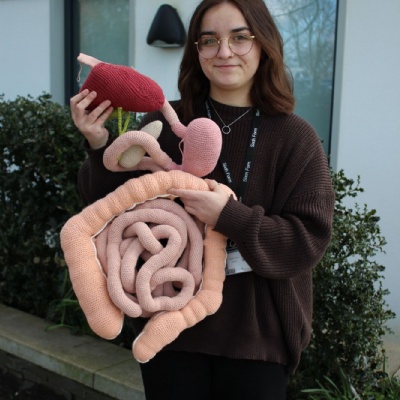 Our talented A-level student Rachel, recently completed an impressive representation of the intestine system made out of crochet.
This is Rachel's story...
"Alongside A Levels, in sixth form we are able to take part in the EPQ (Extended Project Qualification). This is an opportunity to perform independent research in an area that interests us, and to produce either an artefact or a 5000 word report.
"I am hoping to go into medicine, so I decided to do an artefact with a medical focus. I also recently learned to crochet, so I combined this with my interest in anatomy to crochet a life-size digestive system. I learned to plan and manage my own time, conduct scientific research and adapt my project to overcome challenges."
"In my research, I explored the use of models in medical education and training, as well as the use of visual aids for paediatric patients. This meant I could suggest a real life application for the project - to be used for paediatric patients with digestive conditions.
"We're near the end of the project now, finalising research and getting ready for final presentations. The skills I've learnt will definitely be useful moving on to university, and I've enjoyed extending my own learning outside the usual A-Level curriculum."
The staff are beyond impressed at the work that Rachel has produced, this is exactly the kind of high-quality, thorough and in-depth work that should be produced for the EPQ. It is also a perfect representation of why these Extended Project Qualification are so valuable; being able to take time to invest in subjects of real interest and enjoy working on a project that could make a difference.