Students listen to nursing talk from specialists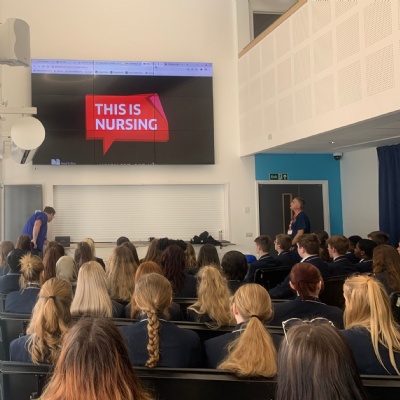 We were very fortunate to welcome Tim Murray, Lecturer in Adult Nursing at University of Plymouth and Tim Parham, Matron at UHP NHS Trust.
They delivered a talk on Nursing to our Year 9, 10, 11 and Sixth Form students for their Curriculum Collapse session today.
They talked about the role of a nurse and how it has evolved over time. They also spoke about how nursing revolved around the art of caring for someone throughout different stages of their life as well as the science involved in keeping a person alive with the use of different machines and equipment.
It was interesting to listen to their different career journeys and how you can progress within the nursing profession is so many different routes, from being a Clinical Practitioner to an Educator for future trainee nurses.
Tim Parham talked about his recent expedition to the Antarctic as part of the British Antarctic Survey Medical Unit (BASMU) where he spent 3 months helping to train and look after the team as well as encountering lots of icebergs, seals and penguins.
It was a fantastic glimpse into the role of a nurse and the students came away with lots of new-found knowledge and a career path to think about for the future.
Many thanks to both Tim Murray and Tim Parham, for giving up time in their busy schedules to talk to our students.