DofE Awards Night 2023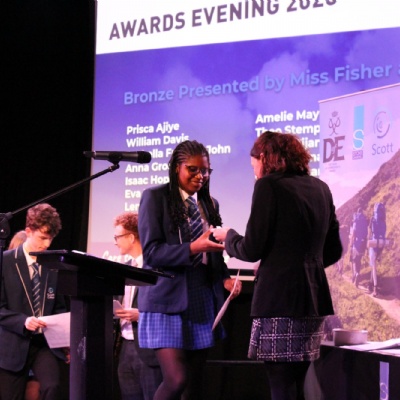 Scott Medical College and Stoke Damerel Community College held their first cross campus Duke of Edinburgh Awards Evening last night, celebrating all the incredible achievements our students have accomplished over last year.
Mr Campion and Miss Fisher awarded students who had achieved their Bronze Awards with Special
Recognition Awards being given to individual students. Awards included the X Factor Awards and
Making A Difference Award.

We heard from Will and Issac who recapped their Bronze DofE experience and Simeon and River
who spoke about their experience of both Bronze and Silver awards.
Will, Bronze Award student said, "This program has undoubtedly been one of the most rewarding
experiences of my life. My experience with DofE has been an incredible journey of self-discovery and
personal growth. The program has taught me so much about myself, and it has given me the
confidence to pursue new challenges in my life."
Simeon, said, "I have gained so many new experiences - and formed friendships with new members of the group alongside my existing DofE friends. I have also worked as a football coach as part of my volunteering. DofE was the most amazing thing I did. It has helped me to discover new clubs and activities."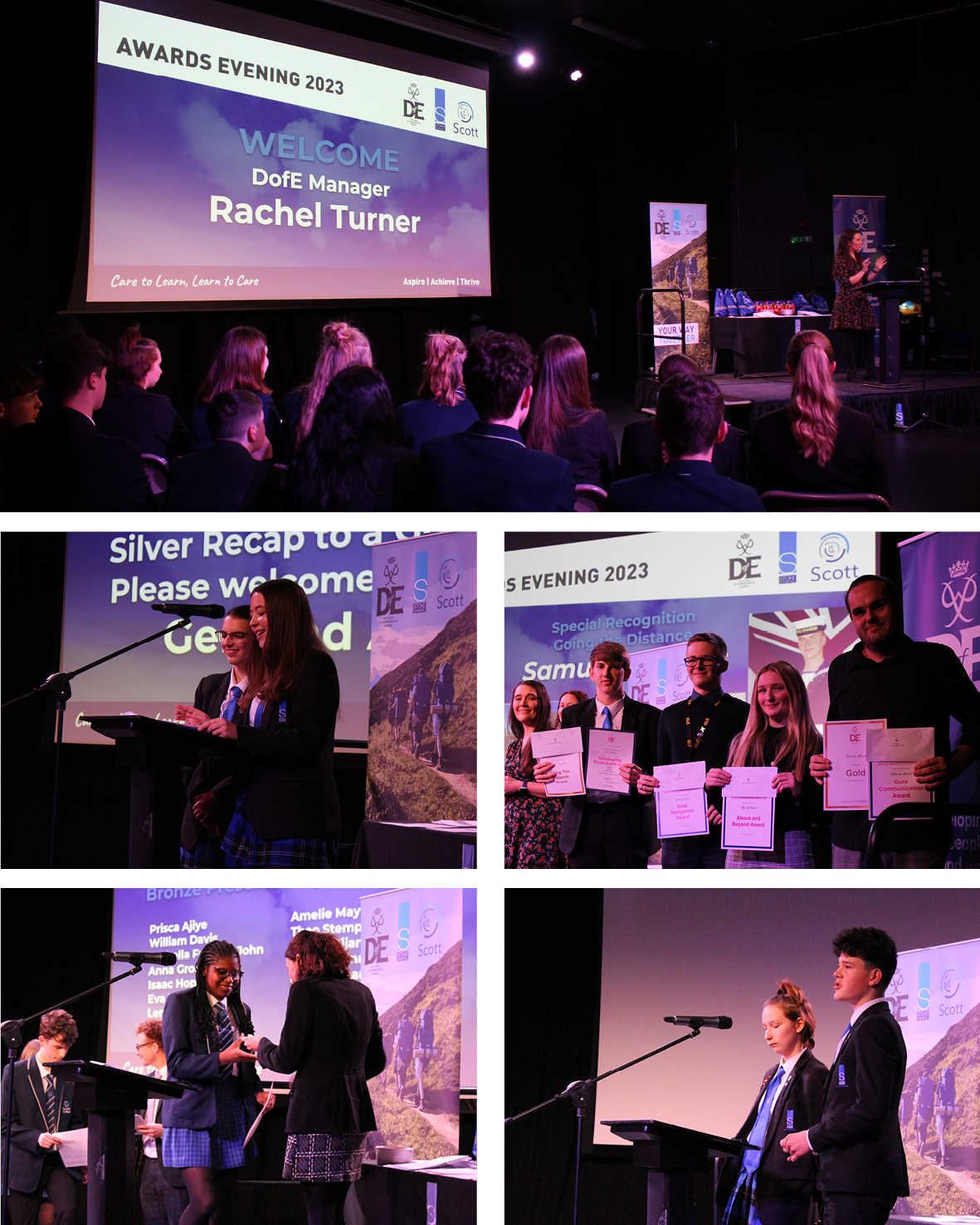 Miss Turner, DofE Manager, and Miss Haley who mentored the Silver DofE group then took to the stage to award the Silver DofE Award with Recognition Awards being awarded to individual students including the Communication Awards and Top Chef!
Erin, Ella and Izzy spoke about their experiences;
Issy, "I think that silver makes you work harder to surpass your expectations of yourself. The
different challenges you will face in a team will not only test you and your ability to work under
pressure but build you up to work together rather than as individuals.

For me, my favourite moment has to have been when all the Scott College students came back for
the day after completing our walk. We decided to stand in a line to sing to all of the Stoke students
as they arrived back into the camp. This sounded very out of tune and was quite frankly painful to
hear but we had a few laughs and weird looks…"

Ella, "We've made forever friendships, created incredible memories and a set of skills we will use for
life.

"I'd recommend not getting your boots wet on the first day, walking with wet boots… is not fun. And
also bring a speaker so you can keep your spirits up by singing and dancing, (even if some people
sound like dying cats)"

We then heard from Geri and Amelia who had recently completed their Silver Award and were ready
and raring to start tackling their Gold DofE Award.
Geri said, "DofE helped me to become more confident with map reading, setting up tents, packing
my bag with all of the essentials and cooking using cooking stoves. In fact, our favourite meal was
our unique pizzas, but I am not going to share our secret of how we made them. Sorry!

Gerri added, ''I think those moments in life when you struggle the most is when you create the
strongest bonds with people and those bonds are the ones that last forever.''
"Silver definitely gave me inspiration to complete Gold DofE within the next 2 years so that I can finish the whole experience as I've made it ⅔ of the way there, my motivation and confidence has never been higher, so if I had one thing to say to people that want to do DofE - Do it! Because if you do, you will memories which you will cherish forever."
Amelia said, "Over the last 2 years I have endured laughter, joy but also challenging times. If I didn't decide to take the opportunity I wouldn't have been able to make so many good memories. The physical part never fully prepares you for the journey, especially if you are me who decided to walk my pet ferrets every week to complete more of my section!"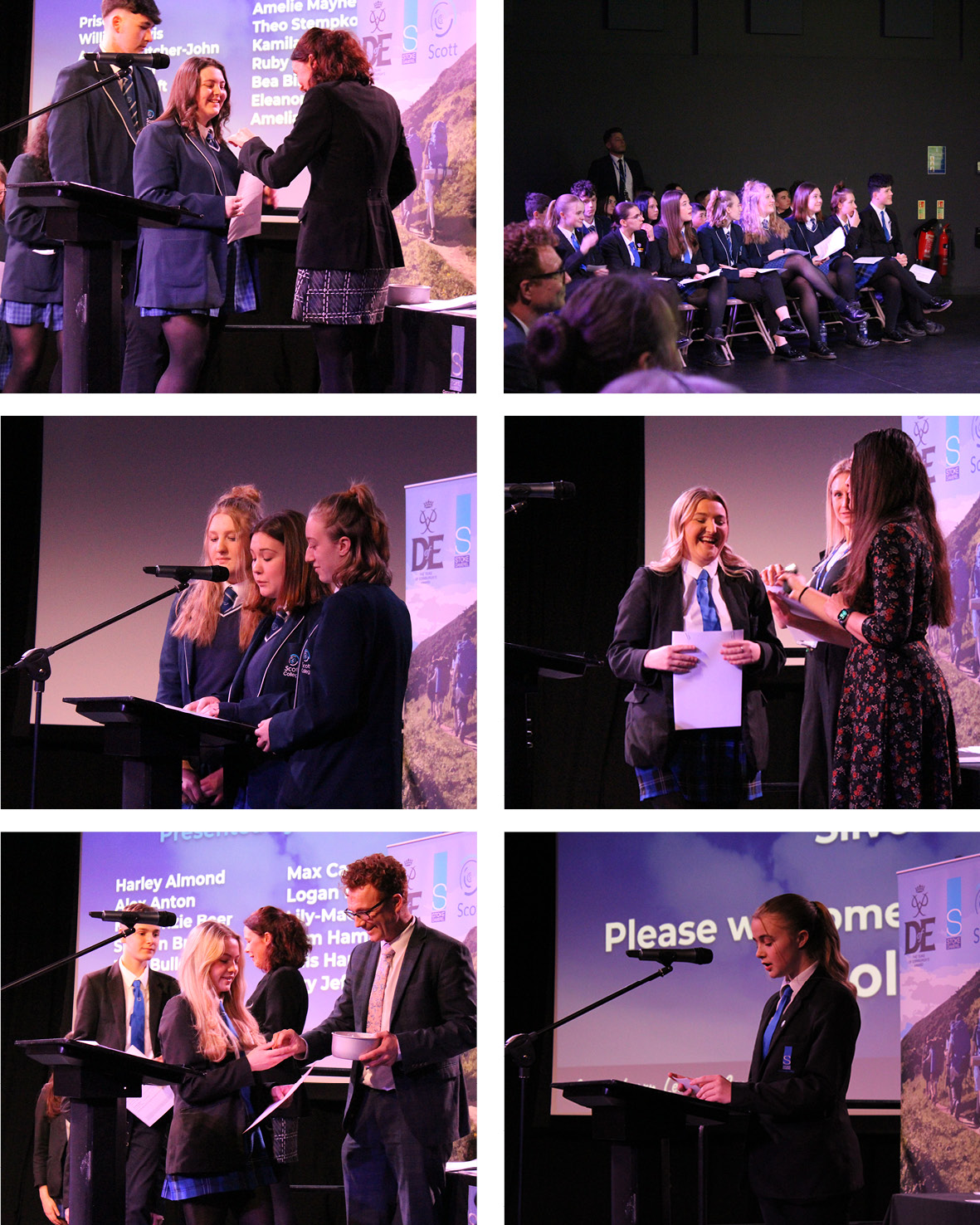 Finally, Miss Turner and Miss Haley, awarded the notoriously difficult Gold Awards to three incredible students, Hobson, Callum and Mia.
Hobson, Gold Award winner said, "From completing my Bronze, Silver and Gold DofE I have gained friends, skills and memories for life.
"I loved completing my skill section of learning to drive, my volunteering section of coaching Under
8's how to play tennis alongside a senior coach at Hill Lane Tennis Club and my physical section of
playing both hockey and cricket. Completing my DofE also provided me with the opportunity of
going to a residential in which I spent 5 days and 4 nights away in Cornwall.

"Since completing the Duke of Edinburgh Awards I have now been invited to collect my full award in
London from the Palace."
Mia said, "I found DofE to be challenging and stressful, but at the same time absolutely exhilarating.
''It taught me to push past my limits, like waking up before midday, and step outside of my comfort
zone. At the start, I was completely against the idea of doing Gold Duke of Edinburgh, as I had no
previous experience with anything like it. After completing the expedition, my opinion has changed
entirely as I had the best time of my life and finished it with no regrets. However, I am definitely in
need of some new trainers!

"For my volunteering section, I decided to use this time to help teachers in their lessons; such as
helping Miss Aldridge in her cooking class or helping Mr Hatherley in his IT class. This gave me the
knowledge and understanding I need, in order to hopefully become a teaching assistant in the near
future. For my physical section I chose to do running as a way of improving my cardio, which has
resulted in me registering for the 10K that is due to take place in May.
"Lastly, for my skill section, I chose to do Dance, as it has always been a passion of mine. As of now, I
still haven't completed my residential section, however I am looking to complete this during the
summer so that I can put Gold Duke of Edinburgh on my CV, as this is what employers desire."
A big thank you to all the staff who have supported the students in their journey and a huge well
done to all of our DofE Students, you are true representation of what the Duke of Edinburgh
encompasses. You have shown determination, perseverance and commitment and we are so proud
of you.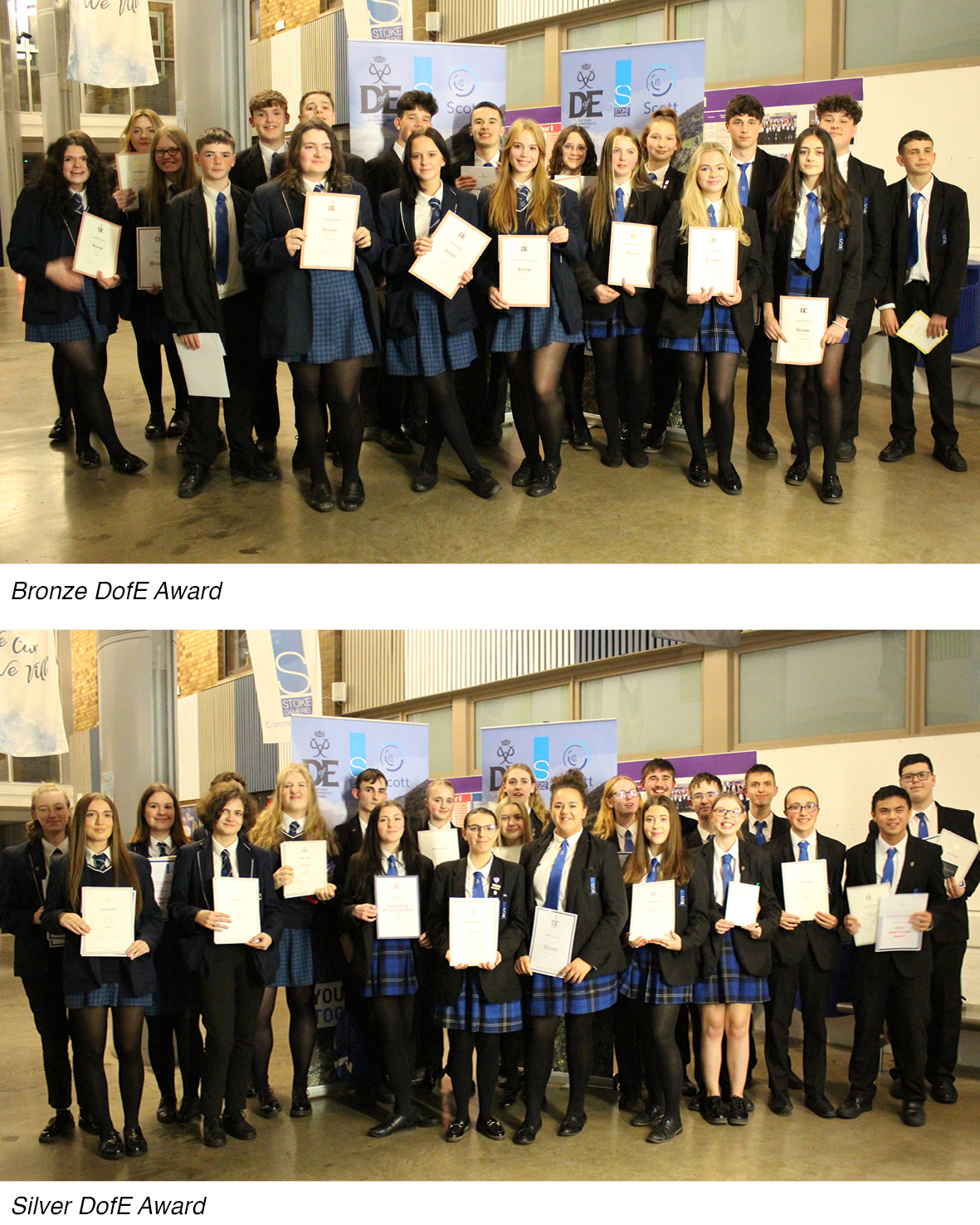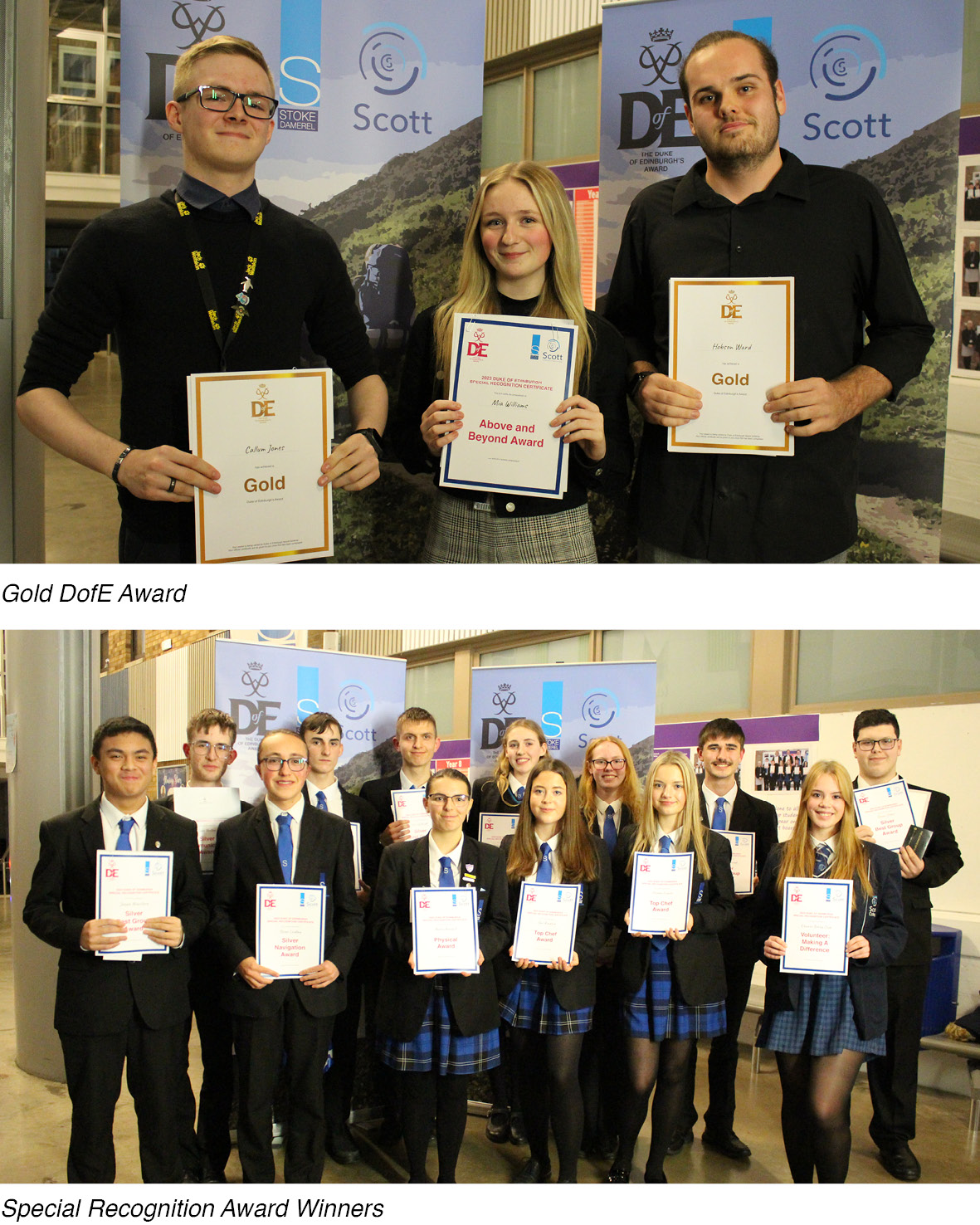 Here is some advice from our DofE'ers, to students thinking of doing their DofE Award.
Isaac, "My advice for anyone starting or thinking about starting their bronze to just do it and enjoy it. There is nothing to lose, only an amazing experience to gain."
River, Bronze Award student said, "The advice I would give to someone thinking about doing DofE would be to go for it. At some points it might get challenging but you just have to keep your head up and remember how it will benefit you physically and mentally."
Erin, "My two pieces of advice I would give is, always walk as fast as your slowest walker, and more importantly add grated cheese to any camp food it makes it taste ten times nicer!"
Will, "I would highly recommend DofE to any young person looking to challenge themselves and make a positive impact on their community."