No label no limits workshop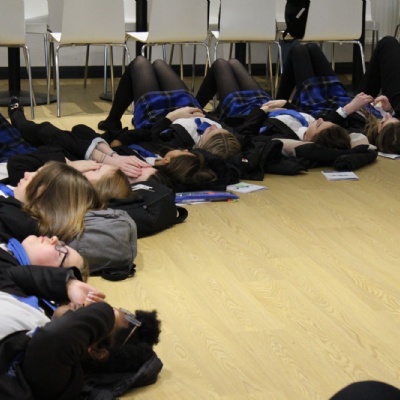 Students from Scott Medical and Healthcare College and Stoke Damerel Community College have been selected to take part in the No Label No Limit initiative.
The programme is to develop aspiration and resilience in young women. Participation in this fully funded programme is limited to 12 schools so we are really pleased to have been chosen.
This session was all about well-being and the importance of relaxation away from electronic devices, how to relax and the girls participated in a relaxation exercise.
No Label No Limit is an employer-led personal development programme, inspiring and empowering Year 9 girls to reach their potential, which has been piloted in two Devon schools this academic year. This pilot has demonstrated substantial impact and the programme is now being rolled out to test whether tailored personal development and career support for Year 9 girls, led by professional female business leaders, significantly improves self-belief, social and emotional capabilities, attendance, application to learning, behaviour and aspirations.

Ofsted has identified that girls generally outperform boys academically, but this doesn't translate into career or pay advantages later in life. We also know that by age-6 children classify jobs as 'male' and 'female', and by age-12 50% of girls aspire to gender-stereotyped jobs. In addition, local education leaders have reported that girls often set limitations on their career goals and, in rural areas, access and exposure to inspiring female role models is limited. The No Labels No Limit initiative addresses these challenges through a series of interventions.
We are looking forward to the next session where the students will be learning about resilience & kindness and we will be having inspirational women coming in to speak informally with the girls about their personal careers journey.